| | |
| --- | --- |
| | Born in Los Angeles in 1952, I had the tremendous blessing due to the foresight of my parents, Joy and Lee V. Holman, to grow up in the thriving music and art environment of Mill Valley, California. I always had the affinity to play the Trap Drums. After dabbling, ineffectively in the ultimate percussion Instrument, (the Piano), and trying to muster the Embouchure for the Trumpet, (under the tutelage of My Stepfather, Byron Berry, renown San Francisco Bay Jazz player), I finally relentlessly beat on the pots and pans in our kitchen until Byron and my Mother, Joy, bought me a |
chrome, Ludwig Supraphonic 400 snare drum. I was 12 at the time.

They promised me a Drum Set if I would take lessons and show some discipline, so I dutifully went across the street to ask the advice of Gene Riddle, one of Byron's cronies and a Jazz Drummer himself. Gene showed me how to set up the drum set and loaned me some spare drums, parts and a Funky old Cymbal. Only problem was, even though I am right handed, when Gene showed me how to set up the Trap's I mirrored him and put everything on the opposite side as though I was left handed. Years later, when I finally started taking Drum Lessons from top Bay Area Instructor, Chuck Brown, Chuck paced around a little, scratched his head and asked me if I was left handed. When I told him I was right handed he shrugged his shoulders and said, "Oh Well, too late now"! I had the tremendous boon of beginning to work almost immediately playing in 1964 at the age of 14 with The Old Gray Zipper. Ralph J. Gleason, in his book called, "THE JEFFERSON AIRPLANE TAKES OFF," listed us as one of the "Original 100 Psychedelic Bands, (I also played with another of the Bands mentioned in the book- The Ugly Harpies).
| | |
| --- | --- |
| The Old Gray Zipper, admittedly, had a Psychedelic edge but we were more at home playing the music of Sam and Dave, Ray Charles and James Brown. The Music my Folks listened to at home was very diverse and heavily weighted towards Jazz: Duke Ellington, Count Basie, Ella Fitzgerald, and Sarah Vaughn. Jazz is Americas only Classical Art Form to this day. "It Don't Mean A Thing If It Ain't Got That Swing"! THAT was Music and to this day that is what I hear and play… Black Music. Of Course I "got" The Beatles and other "Pop Rock" Groups who were great but when Jimi Hendrix came along I couldn't believe what he was doing | |
with music. His first three albums were pure Genius. To this day the best of his Music still stands tall among us as an inspiration.

By 1964 Byron and Joy bought me a three piece, Gold Sparkle, Ludwig Super Classic set to go with my snare drum. What was really in at the Time with some of the other Drummers in Mill

Valley like Frank Foise, Pete Miller and Bill Gibson was that same Ludwig set only in Silver sparkle. I don't want to say that I was disappointed but I promptly took my set down to The Tamalpais High School Wood shop and peeled off the plastic and refinished the "Natural Wood" Mahogany. This "Natural Wood" fiinish became the standard for many Drum companies by the ' 70's.
As I alluded to earlier, when I was 21 I looked around at some of the young drummers and I realized "wow these guys blow me off the planet: I really need to do some serious studying and practicing"! I started studying with Chuck Brown and was pretty serious for about ten years before I felt I actually had enough technique, phrasing and musicality to express what I always knew I had inside of me.

I was always playing in different Bands throughout the years including: The Dan Hayes Blues Band, Muskadine, Hub City, Sweet Rush, The Blue Rockers, Amicus and Juke Joint to name a few. I had always done a little singing and around the end of the 90's I started to dabble a little in Guitar to accompany myself: because in a stagnant music scene the Drummer is always the first to go and I wanted to continue performing at some level.
Although nothing is really "New " or "Unique" in music, or any art for that matter, a few songs had channeled through me in the '70's and since the year 1999 I have had the Grace to receive a few dozen songs from the Universe. I have put some of these songs to music for my first Album SQUARE PEG.

When people ask me to describe my Music I tell 'em it's "RHYTHM and BLISS" music. So sit back, listen and enjoy the music of Larry Lee Holman and Rhythm Method. Let us know what you think!
Bellow are a couple of recent photos. Here is a shot of Larry Lee playing live at The Sweetwater in Mill Valley, CA.
This one with Larry Lee on drums is a promo shot, as can be seen on the back cover of his CD.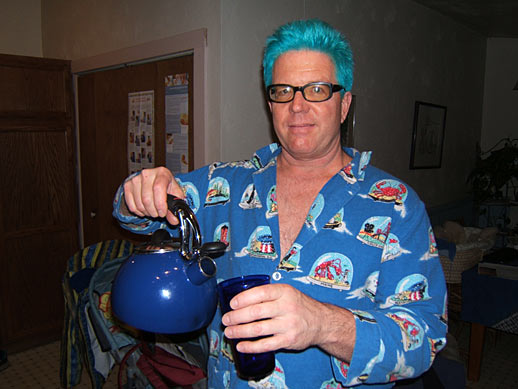 And finally, a recent shot of Larry Lee on beverage.